Back To Our Services
Depending on the problem, the right steps must be followed so that your garage door can be operational and safe once again. These steps might include replacements, repairs or adjustments. These are garage door repair services. The prime effort of our professionals is to repair the damaged track, cable, roller and basically any and every part of your system. In case something is damaged beyond repair, it will be replaced. When parts are installed, they're mounted in a certain position for a specific reason. If they move, they must be adjusted.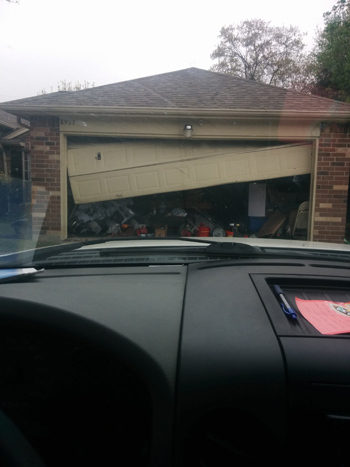 Track repair services
Your overhead door might jam, bind or make strange noises due to track problems. In such cases, the tracks must be fixed. There are mainly three common problems when it comes to the tracks. The first one is related to dents. Tracks are mostly dented when cars back with force or are hit by another heavy object. Such problems are not always urgent, but the door will make loud noise every time the rollers pass through the dented track part. Most bent tracks are repaired unless the damage is severe, in which case tracks are replaced.
Another problem is related to the track's position. If screws are loose, the track will move from its original position and must be re-aligned. The track must be mounted in the right distance from the door or you'll have binding problems.
A third common problem with tracks has to do with their condition as they grow old. If they're made of raw steel, they erode. Even if they're galvanized, they might be scratched and still erode if they're not properly cleaned and lubricated every year. Scratched, corroded and damaged tracks must be replaced.
Opener chain adjustment
The chain drive opener consists of a chain which is shielded by a rail connecting the motor with the trolley. The chain goes around a sprocket which turns and transfers movement to the chain when the motor is activated. The chain must not be too tight or loose. If it is, adjustment is required. If you look closer, you'll see two screws. One is for locking and one is for adjusting. The locking nut must be loose before adjusting the chain's slack by the second screw and then the system must be locked again. If you want to avoid such tasks, let our professionals do it for you.
Same day repair services in Palm City
When it comes to your safety, don't settle and contact us at Garage Door Repair Palm City. Repairing urgent issues is our priority. If the door binds, is jammed, fails to open or the springs are broken, you can count on us to help you as fast as possible. In such cases, we provide same day repair services.
Call us every time you need fast garage door repair, and browse our website for more information.
Back To Our Services