Back To Our Services
No matter whether you are looking to get a more modern opener or the panels of your door have been severely damaged, our garage door replacement service is the ideal choice. We are here to save you time, effort and money. We work quickly and efficiently to produce the best possible results. We offer everything which you need and more at a price which is more than affordable.
Replacement Services from Professionals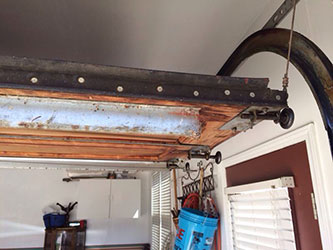 Our service covers absolutely all brands without exception. Our technicians are highly specialized and have excellent knowledge of both new and old models. You can rely on our professional assistance irrespective of whether you require LiftMaster or Genie garage door replacement.
At Garage Door Repair Palm City, we use only the most advanced tools for garage door opener replacement. When this is added to the excellent skills and extensive experience of our technicians, the result is brilliant. Our technicians will mount the device, connect it to the moving parts of the door and adjust the force and limits precisely. The new opener will be fully operational in hours rather than in days. You can expect it to work perfectly from day one.
It is a fact that garage door panel replacement is often necessary due to severe damage caused by water or an accident. We will not only replace the damaged panels with new ones of the same material and style. We will actually help you prevent such issues in the future by providing maintenance and by improving the safety of your garage.
We are always available to replace garage door parts. If there is an urgent need for replacement, you can use our services for garage door repair. You can expect instant response and quick arrival. Our technicians have everything necessary to deal even with the most challenging of tasks such as broken garage door cable replacement.
Leave us a note with any garage door replacement questions and your contact details and we will get back to you quickly.
Back To Our Services